Surprise Your Sweetheart With These Baseball Inspired Valentines Gifts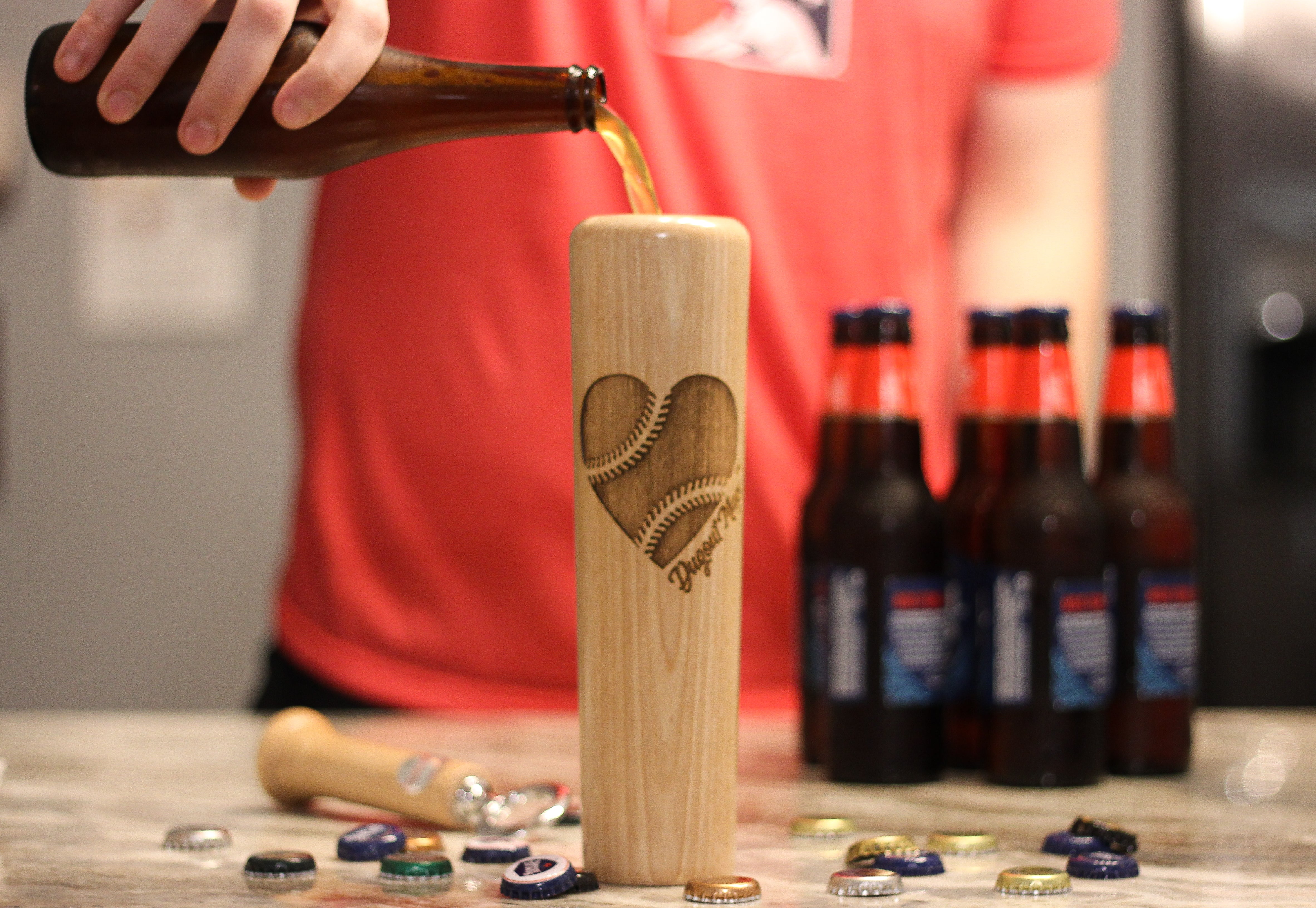 If your partner is counting down the days until Spring Training, then we have the BEST gifts for them. There's no need to look on Amazon or go to the mall, we've collected enough great gifts for you to START & FINISH your Valentine's Day shopping TODAY!
1. Dugout Mugs Hearts & Laces Valentine's Day Collection
For many of us, our first true love was baseball. Since then, a lot of us have realized that our love for our partner is even greater! Help your partner remember the two loves of their lives, and make them love you even more for giving such a fantastic Valentine's Day gift! Our Hearts & Laces Valentine's Day Collection is available in both our 12 oz. Dugout Mug and our Wined Up wine glass for $39.99. Personalization can be added to both products as well.
A picture is worth a thousand words. Remember that first date, those special occasions, or family memories that will last a lifetime by having them laser engraved on a Dugout Mug. Personalization can be added to the other side with a handwritten, one-of-a-kind message to show your significant other just how special they are to you.
3. Coffee From Loma Coffee Co. 
3x MLB All-Star, 2x World Series Champion, and Boston Red Sox Hall of Fame Inductee Kevin Youkilis launched his own coffee company and roastery based in Portland, Oregon. After starting a brewery and cafe in California, the 10 year MLB vet decided to expand from beer making to coffee. Now, Loma Coffee Co. is serving up freshly roasted specialty coffee and an unparalleled espresso experience with flavors like the El Salvador Las Delicias Pacamara, YOUK! Espresso Blend, Guatemala  El Morito, Red Bourbon, Colombia, Cauca El Tambo, and many more! 
4. Wine from Baker Family Wines 
If you're looking to fill your Wined Up with the best red and white wines from Zinfandel to Cabernet Sauvignon look no further than Baker Family Wines.  Started by Astros manager Dusty Baker, who began making wine in his backyard, this product takes you from the dugout directly to the vineyard. 
5.  Apparel from Big Fly Gear 
Chicks dig the long ball and everyone loves Big Fly Gear. The latest apparel company from longtime broadcaster Victor Rojas takes moments in baseball history revolving around the home run and create a one-of-a-kind tribute graphic that tells the story. Whether it's t-shirts, sweatshirts, hats, you can be dressed from head to toe in baseball lore. As a bonus, they even have a Big Fly Dugout Mug! 
6. Babe Ruth Long Ball Licorice
Want to kiss your significant other, but tired of chewing tobacco getting in the way? Babe Ruth Long Ball™ Licorice is a tobacco substitute and delicious candy that comes in two mouthwatering flavors, Black and Red Raspberry. Two delicious, soft and pliable candies that bring the ballpark to everyone, and will leave a lingering taste that satisfies!
7. Dugout Mug Officially Licensed MLB Products
Swig for the fences this Valentine's Day and drink from the barrel of a baseball bat with our officially licensed MLB products. Our original Dugout Mug holds 12 oz. of your favorite hot or cold beverage! Looking for a gift for the wine lover in your life? Our Wined Up, is perfect for sipping your favorite red or white on the patio, and watching the big game.  If taking celebratory shots is more your style, our Knob Shot is a home run gift, a 1 oz. shot glass made from the handle of a baseball bat. Crack open your favorite beverage and cheers to Valentine's Day with our Season Opener, bat handle bottle opener.
8. Personalized Grilling Tools from Baseball BBQ
The folks at Baseball BBQ have combined their love for America's Pastime and grilling. Treat your significant other to an amazing Valentine's Day meal with their line of products which includes the "Turn Two" combo featuring the Slide Spatula and Forkball Fork as well as the home plate cutting board, all of which can be laser engraved and customized for the baseball lover in your life.