Dugout Mugs Celebrates Brandon Bailey's Native American Heritage With New Collection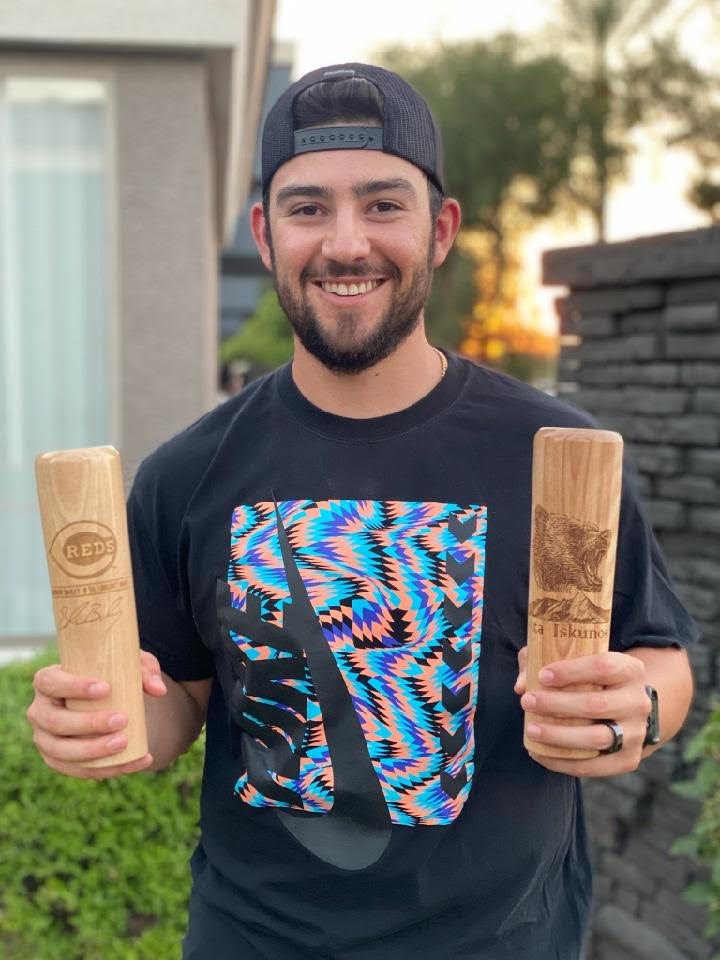 Dugout Mugs
is proud to announce a collaboration with
Cincinnati Reds
pitcher
Brandon Bailey
. Bailey is one of a handful of
Native Americans
to ever reach the Major Leagues and is proud to showcase his
Chickasaw
heritage. That is why we have created a pair of collectible mugs at
DugoutMugs.com/Bailey
including our Brandon Bailey Signature Series edition and one that pays homage to his Chickasaw roots.
On the bottom of the mug, is Bailey's nickname, "Little Bear" which translates to Nita Iskunosi in his native Muskogean language.
"Growing up, my grandfather Keith Bailey, and my dad Brad Bailey were very proud of our family heritage and being a part of the Chickasaw Nation," he said. "The day I was born my Grandpa Keith was there and he gave me that nickname because I had a full head of hair. That's what stuck out and he thought I just looked like a Little Bear."
While the Little Bear nickname is inscribed at the bottom, a ferocious bear is laser engraved towards the top of the mug, a nod to the type of pitcher Bailey aims to be on the mound, strong, angry in a sense, and aggressive.
"I channel that type of attitude and energy that the bear represents," Bailey exclaimed. I just want to go out there and attack my opponent, attack the hitter, and just be violent and ferocious on the mound."
In the center of the mug, is a nod to the Flat Iron Mountains in Boulder, Colorado, where Brandon is from. It's the area he grew up and spent the first 18 years of his life, before heading off to college at Gonzaga University.
"It's where I learned my morals and ideals as an individual, "he added. 'It's where I learned right from wrong and it is always a place I can go back and be centered with myself as an individual. The mountain range definitely speaks to me because it reminds me that no matter where I go in life I can always go back home."
At Dugout Mugs, our mission is to celebrate and serve the heroes of the baseball community by creating uniquely fun gifts that bring people closer to the game they love.
"By representing Native Americans in Major League Baseball, we think Brandon definitely qualifies as a hero in the baseball community," said CMO Nate Lagos. "There have been very few Native big leaguers and it's an awesome accomplishment."
In addition to this new collection, we are also choosing the
Chickasaw Foundation
and the
American Indian College Fund
as our August Cheers to Charity recipients. Dugout Mugs will make an initial contribution of $1,000 and proceeds from
DugoutMugs.com/Bailey
will be donated to these organizations that help Native American families and students in need.
"The Chickasaw Foundation helps raise money for Chickasaw people in a few different ways whether it be scholarships for kids wanting to go to college or families that are in need with special circumstances, COVID19, or some of those hardships that are going on," Bailey explained. "I'm also going to be donating the portion of the proceeds that I'd make to the American Indian College Fund which raises money for native kids and native children across the country that aspire to go to college and provide scholarships to those kids who might be trying to figure out how to pay for college."
For Bailey, he was blessed to go to Gonzaga University in Spokane, Washington, on a full-ride and some of the money he was able to raise came from the Chickasaw Nation and some of their academic scholarships allowed him to pursue his dream of getting an education and college degree.
At the end of the day, he's grateful for everything that the Chickasaw Nation has done for him.
"As an individual, someone who didn't grow up on the reservation, not half-blooded or full-blooded Chickasaw, they've embraced me and welcomed me and my family with open arms into the tribe," Bailey noted. "As a professional athlete, I feel I need to use my platform to raise awareness on Native American issues and also try to be the best role model that I can for young Native kids out there that don't have a ton of people they can turn to or look at especially in the professional sports world."
Brandon is currently out for the season due to Tommy John surgery, but we look forward to him crushing it when he comes back.